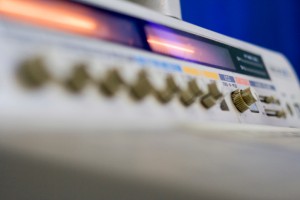 Ultrasound is a chiropractic therapy used as a deep heater.  When ultrasound is performed as a chiropractic treatment, ultrasonic sound waves create vibrations, which work to create a deep, micro-massage effect — this then creates heat.  Ultrasound is used as a chiropractic therapy in acute and chronic injuries.  DeFalco Family Chiropractic uses ultrasound to stimulate healing because ultrasound works to decrease scar tissue and adhesions in chronic injuries and decrease inflammation and stimulate cell repair in acute injuries.
The chiropractic patient often does not feel an effect during this chiropractic treatment, but depending on the settings and area being treated you may feel a slight bit of heat or vibration during an ultrasound.  Most patients note a benefit after the chiropractic treatment, when pain sensation has been lightened.
If you would like to learn more about ultrasound, please contact DeFalco Family Chiropractic.  Our chiropractic office is more than happy to educate you on ultrasound, or any other type of chiropractic treatment.  Please contact us DeFalco Family Chiropractic with your chiropractic questions; we look forward to hearing from you and helping you feel better with the right chiropractic therapy.