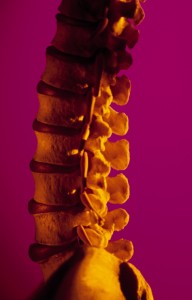 Spinal decompression is a  FDA-approved non-surgical form of treatment for disc injuries, herniations, protrusion, arthritis, sciatica, degenerative disc disease,  spinal stenosis and facet syndromes.   Many people have been through multiple forms of care for their ailing back or neck, only to find little if any relief.
DeFalco Family Chiropractic provides spinal decompression as a chiropractic therapy to patients that are searching for the relief they have yet to find in other forms of care.
Spinal decompression is similar to traction but is computer aided and uses much higher forces applied to the spine.  Spinal decompression works by creating a "vacuum", so to speak, to suck the disc material and fluids back into the disc.  Spinal decompression will help to reduce protrusions and herniations and can increase disc height by millimeters.  This relieves stress on the spine in intervals to promote motion in the spine and release tension on irritated nerves.  Research shows a 70% success rate using spinal decompression.
If you would like to learn more about spinal decompression, please contact DeFalco Family Chiropractic.  Our chiropractic office is more than happy to educate you on spinal decompression, or any other type of chiropractic treatment.  Please contact us DeFalco Family Chiropractic with your chiropractic questions; we look forward to hearing from you and helping you feel better with the right chiropractic therapy.