Bored with your workouts?  Is it affecting your workout goals?  Want fun workout tips?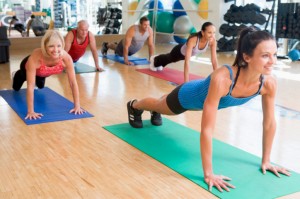 Most people want a fun workout but get stuck in the same monotonous routine.  They want an endorphin high that makes them feel good but don't know what to do.
There are fun workout tips to maximize exercising, getting you away from boring.
Are you on the treadmill jogging at a mediocre speed, watching everyone around you having fun working out?  Ask a buddy to join you to make your workout more fun.  Invite someone who is competitive and is not looking to just hang out and chat.  You want a serious workout buddy for a fun workout!
Don't get stuck in a pattern of doing the same workouts over and over; switch it up and make your workout fun!   Find what activities make you the happiest and find different variations of them to keep you excited.  Fun workouts lead to successful weight loss goals and healthy bodies.  So what are you waiting for?  Check out this article at www.active.com for some fun workout tips.
3 Ways to Make Every Workout Fun

By Nichole Sellon • For Active.com

Do you dread your workouts? Catch yourself counting down every minute you're at the gym? Your mind plays a big role in each of your workouts, and if you find an activity you really enjoy–you'll stick to it and have fun.

Everyone who exercises knows how great it feels post-workout–that natural high you feel when you've gone for a satisfying swim or finished up your training run. This feeling is actually scientific–exercise releases endorphins which produce a natural high. That feeling is what gets a lot of people off the couch and into the gym, pool or court.

Fun is another big motivational factor. If you associate your workouts with excitement, exercise will become an enjoyable part of your everyday life. Here are three ideas that are sure to spice up your routine and make your workouts fun.

Find a Workout Buddy

Working out with others may give you the motivation you need. It's hard to skip a workout when a buddy is expecting you to show up. A partner is also great motivation to take your fitness to the next level. "It's that person in your ear encouraging you to lift one more rep, or swim one more lap," said Scott Bowen, founder of Fit-2gether, a networking website that allows active individuals to meet others at the same fitness level.

"Motivation–100 percent–is the reason I like to work out with someone," Bowen said. It's easier to push yourself when someone is there to encourage you.

So how do you find someone to work out with? Here are a few tips for finding a tennis partner, running buddy, or weightlifting pal:

Use online resources–like www.Fit-2gether.com or the Active.com community.
Post a flyer–at your local gym, rec center or school.
Sign up–for a fitness class, sports camp or outdoor adventure trip.
Talk to people at work–you might find someone who is interested in a lunchtime walk or run, yoga class or trip to the gym.

Add Variety to Your Workouts

Variety is the key to enjoying your workout. Bowen says you can add variety by including activities that are convenient for your lifestyle. "Keep it simple and pick something you like to do. If the only free time you have that day is your lunch break, go for a walk." You don't always have to have a grueling workout. It's better to get some activity then none at all. So if you're feeling lazy or bored, keep it simple and get creative.

For those of you who are dedicated to your sport, it's time to try something new. "Signing up for a race different then what you are used to can be fun," said Evelyne Lambrecht, personal trainer at Aztec Recreation Center in San Diego, California. "If you like 5k's, why not try a triathlon?"

Cross-training is a great way to mix up your routine and strengthen your muscles.

If you're a runner–switch up your routes; enjoy the scenery instead of watching the clock; try a spin class; run in the pool; weight trail.
If you're a cyclist–take a spin class; go for leisure rides once in awhile; weight-train to strengthen those quads; join group rides; Mountain bikers should take their training to the road; road bikers should take their training to the trails
If you're a swimmer–try other water activities like water polo; kayaking; snorkeling; running in a pool; surfing; kite boarding

Whatever your primary sport is, trying something new is fun. Take advantage of the weather and try out a popular seasonal sport.

Try snow sports in the winter–skiing; snowboarding; snowshoeing; ice skating; ice hockey; ice fishing; sledding
Get outdoors in the summer–beach volleyball; in-line skating; surfing; kite-boarding; waterskiing; wakeboarding; hiking; jet skiing; kayaking
Try a new class–Yoga; kickboxing; belly-dancing; pole-dancing; aerobics

Set a Goal for Each Workout

Decide what you want to accomplish before you work out and stick to it. Setting a goal can make your workouts fun because it gives you something to strive for. It's rewarding to be able to push past what you thought you were capable of. Tips for setting goals:

Make sure your goal is realistic: It should challenge you, but not be impossible for you to accomplish. If you set goals that are not realistic to your activity level, it will cause frustration and ultimately ruin the whole workout.
Push yourself: If you push past your comfort zone just enough, you increase endurance and become stronger.
Set mini goals: Mentally break up your workout and set smaller destination goals. It's easier to focus on many short destinations than it is on one large goal.

Goals make workouts fun because they give you a sense of accomplishment. By setting objectives you can make it through a tired day and become a stronger athlete.

Bottom Line

Whether exercise is your passion or just a means of staying healthy, it's important to find ways to enjoy every workout. Try something new–you never know what might work for you.
Incorporate these fun workout tips into your routine and maximize your workouts.  No longer will working out be associated with boring or monotonous.   Add a variety to switch up your workout and maximize your bodies' potential while having fun.  Push your body to a new level of fitness with fun workouts, attainable goals, and a good buddy.
We hope that these fun workout tips help you to meet those goals you have set for yourself!  Don't be the person who is annoyed with workout; be the one smiling.
If you ever want some relief before or after your fun workouts, contact us.  Make your muscles as happy as you are!